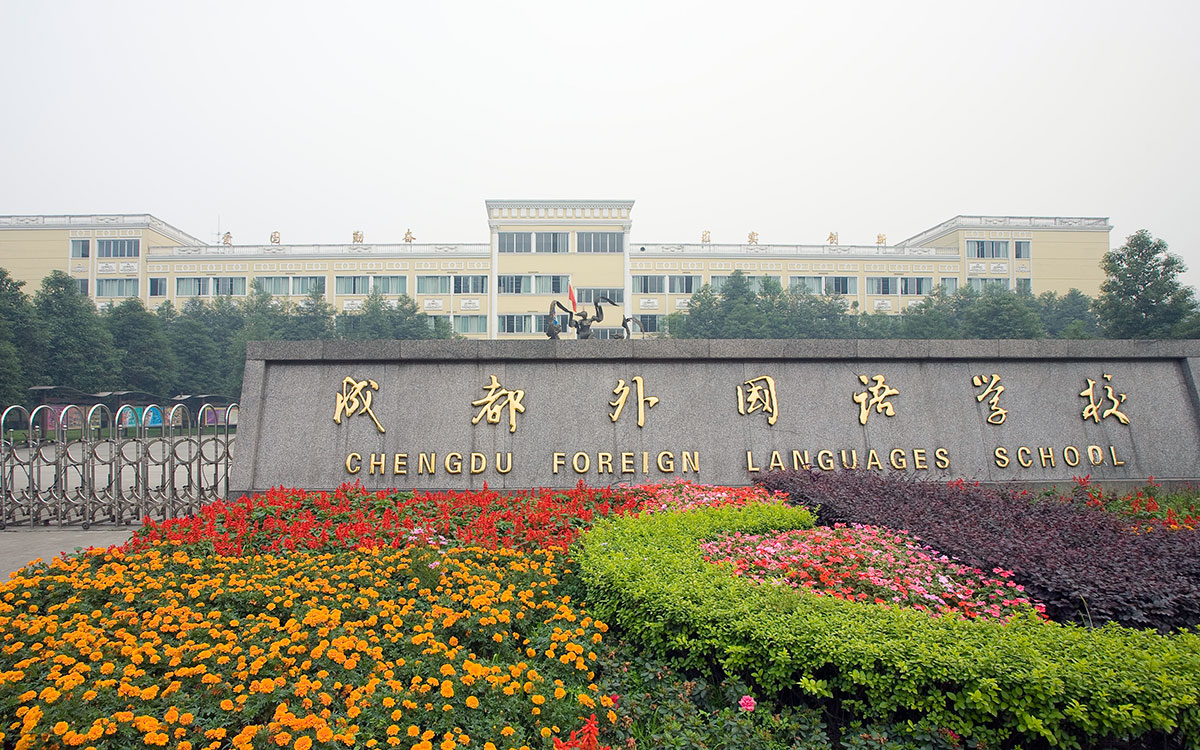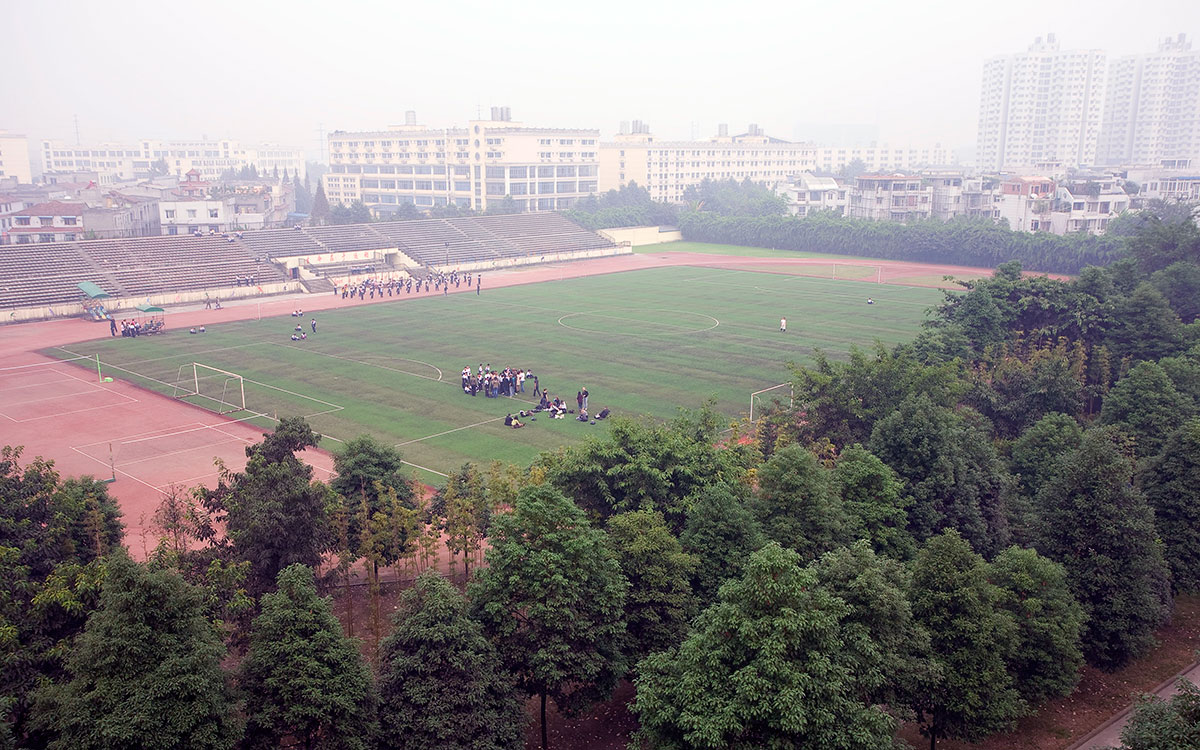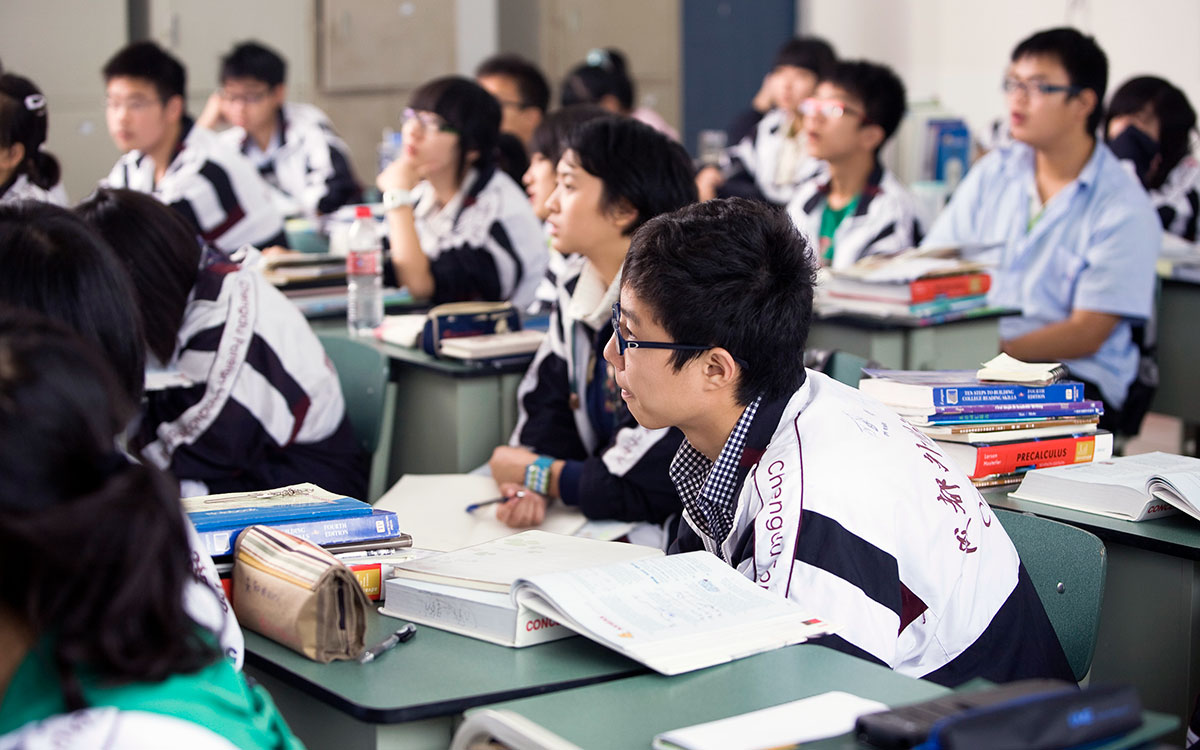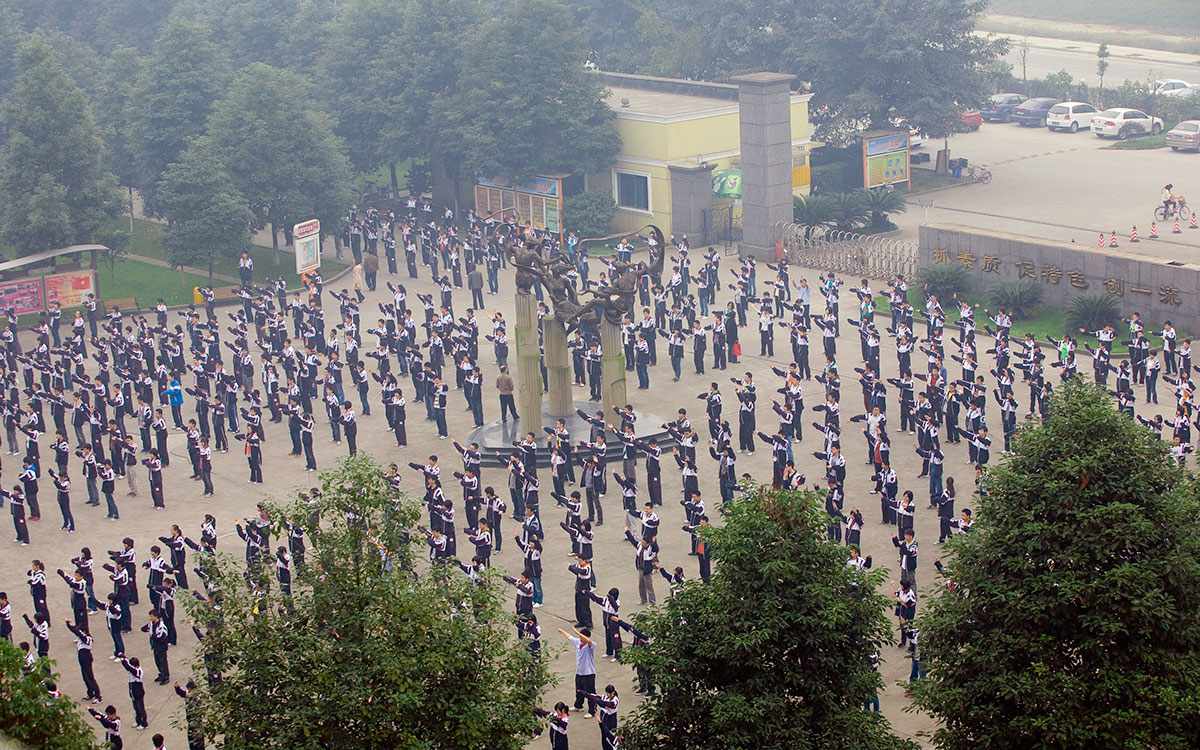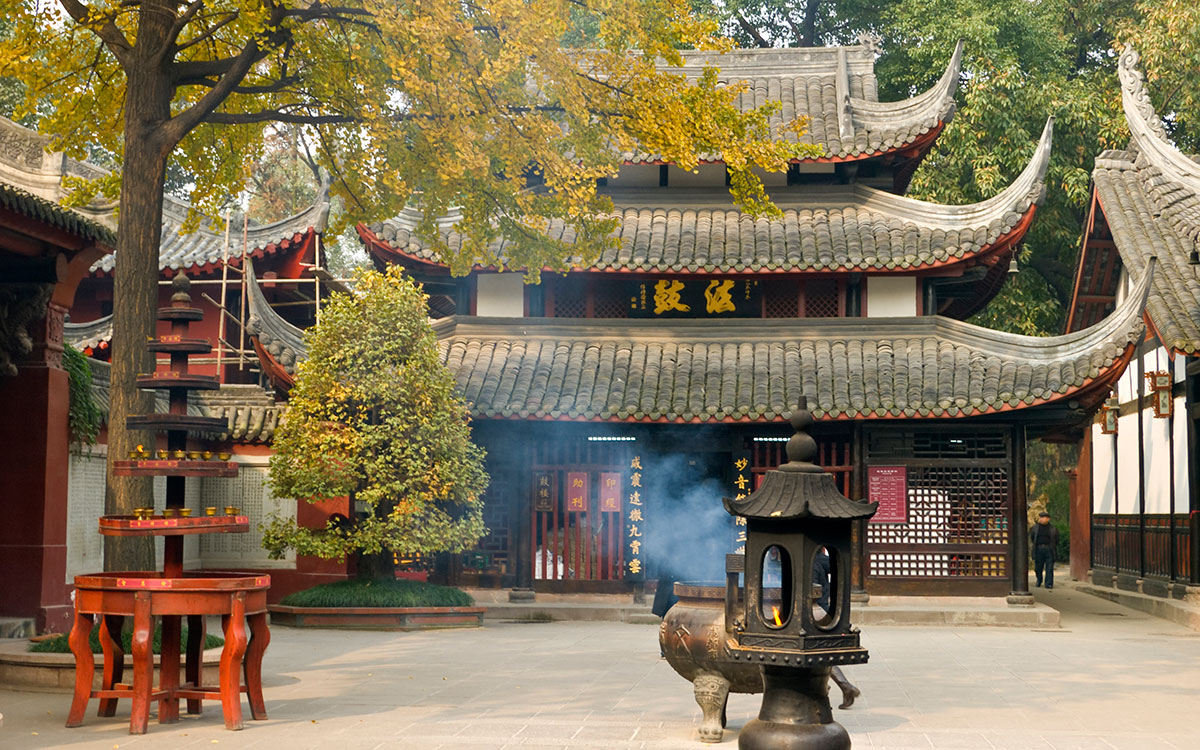 About the Host School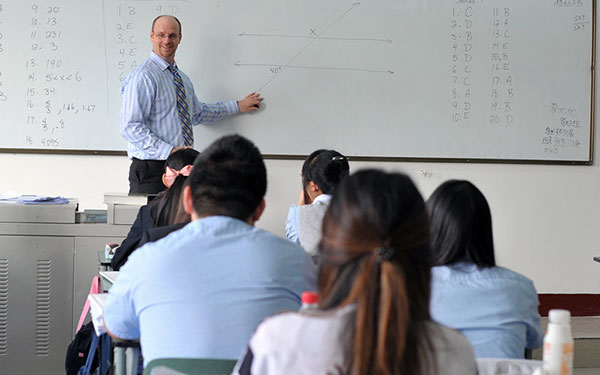 Established in 1989, Chengdu Foreign Languages School (CFLS) is the first school in Sichuan Province with foreign language teaching as its primary focus. CFLS now has 5,800 students (from 13 to 18 years old) and about 650 teaching staff. It is located in Chengdu's High Tech West Zone.
CFLS is highly regarded as one of the best schools in Chengdu, as well as in Sichuan Province. Long term exchange and mutual visit programs have been initiated and carried out between CFLS and some very well respected schools and colleges in the USA and UK.
CFLS ranks among the top schools locally and nationally. It is one of 16 foreign languages schools approved by the State Education Ministry to recommend students to be exempt from the Chinese National College Entrance Examination (Gao Kao). 100% of CFLS graduates passed the National College Entrance Examination and about 70% have enrolled in leading national universities.
The key focus of the main school is to train students to have a good command of foreign languages and to lay a solid foundation of general knowledge for higher education.
About the AP Centre
The AP Program was established in 2009 and at present there are 270 students enrolled in the program. In 2016, 75 students graduate and all graduates will attend colleges and universities abroad. Of those, 40 were accepted to top thirty universities.
There have been major improvements in the facilities this year with new furniture, technology and teachers' workrooms.
Our AP Center endeavors to meet the academic and social needs of all of our students. Some of our classes are geared to the highly able student; some other classes try to meet the needs of those students who still struggle with English. As an AP Center we endeavor to prepare our students for success in the United States so the preparation that our students receive is holistic in the sense that we try to orient and counsel all of our students in the way of life in the United States and its customs, traditions, etc. We want all of our students to be successful in the AP Exams, but the exam is only the beginning of a long and arduous process.
10th grade students begin their course of studies with Pre-AP courses. 11th and 12th grade students all study AP courses which are taught by expatriate teachers. Jointly, with their AP courses, the students study the Chinese National Curriculum. All subjects aim at creating balanced, committed learners who can apply their knowledge academically, professionally and personally!
Lifestyle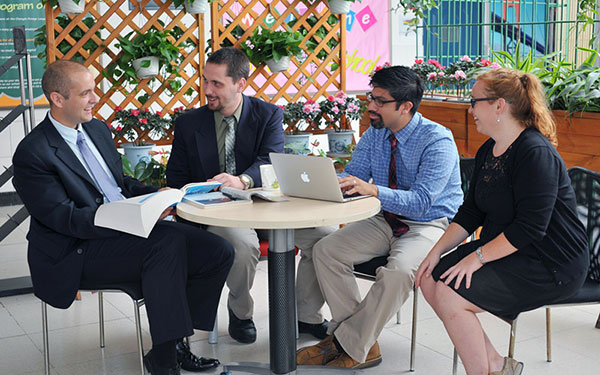 Hailed as the "Land of Abundance", Chengdu lies in the southwest of China, in the center of the West-Sichuan Basin. As the capital of Sichuan province, our city is the center of technology and innovation. With a long history, the city is also known for being home to the giant pandas and as a relaxed and laidback city. Visitors should not miss the spicy Sichuan cuisine, famous hot pot, or delicious local snacks!
The surrounding countryside and smaller towns in Sichuan also provide visitors with a wide variety of sites to see. From the impressive Giant Buddha in Leshan, to the colorful lakes in Jiuzhaigou, and the forgotten Tibetan villages in Ganze, there are plenty of things to see just within the province. Of course, Chengdu is also very accessible to other parts of China, with planes, buses, and trains running daily to many locations.
The standard of accommodation is high, for many apartment complexes located near the school are newly constructed. There is a good combination of Chinese and Western food options located at the main shopping center. Also, situated nearby is a Walmart, fitness center, movie theater, convenience stores and multiple bank branches. The school location remains unique, for though it is within the city, there is a true local feel. Some teachers are also involved with city activities such as watching football games or playing rugby for the local club team. There is a good social scene available in the city as well.
Most of our teachers live very close to the school in an area where the shops and restaurants are abundant. We are also lucky to have a Metro station right in front of the school that takes us right in to the center of the city in twenty minutes! Our community is very Chinese but the influx of foreign nationals is growing. Families can feel secure here as crime is virtually nonexistent. Children and adults are out at all hours and enjoy all that this part of the city has to offer. For a foreign teacher this is a wonderful place - outside of the city proper, yet close enough to enjoy all that Chengdu and the surrounding areas can offer.
The history of the city can be traced back 2,400 years when the first emperor built his capital here and named the city. Through thousands of years its original name has been kept and its position as the capital and as the significant center of politics, commerce and military of the Sichuan area (once called Shu) has remained unchanged. Since the Han (206B.C.-220) and Tang (618-907) Dynasties when its handicraft industry flourished, the place has been famous for its brocades and embroideries. It is listed among the first 24 state-approved historical and cultural cities and owns 23 state and provincial cultural relic units. In addition to its profound historical and cultural background featuring historic places of interest such as the Thatched Cottage of Du Fu, Wuhou Memorial Temple and Wenshu Monastery , etc., natural beauty abounds in surrounding areas such as in the Jiuzhaigou Scenic Area and Huanglong Valley (Yellow Dragon Valley) . The natural habitat of giant pandas, Chengdu Panda Breeding and Research Center , supports the world's only giant panda breeding and research base.
Sampling the famous Sichuan cuisine is a must for a visit here. Enjoying the food as well as the culture, shopping and having tea at a teahouse afford a deeper understanding of this cultural city. Improved land and airlines extending nationwide provide greater convenience. Chengdu is also the main inland access city to Tibet.
http://www.travelchinaguide.com/cityguides/chengdu.htm
http://www.lonelyplanet.com/china/sichuan/chengdu
Teacher Case Study
Andy Sanchez Bautista
When I was still in college it was my earnest desire to work and teach overseas. Prior to working in Chengdu Foreign Languages School, I had already been involved in teaching international students and working with young people. I started my teaching career after I graduated from university. I finished a B. Sc. in Physics in the Philippines, that helped me to gain extensive experience in teaching Physics. During the first year of my career, I was given an opportunity to become a Physics and Math teacher in one of the private international schools in the Philippines, where half of my students were Koreans and the rest were Filipinos and other nationalities. After a year in that school, I was given an offer to teach in Macau in one of the private international schools there. Teaching Physics and Integrated Science to Chinese, Portuguese and other nationalities was my sole responsibility in that school. There I developed further my teaching skills and other competencies through government initiated training that paved the way for me to become the AP Physics teacher in CFLS.
Working with young people is such a rewarding job for me. In CFLS I have an opportunity to inspire my students as they face the academic challenges, strengthening their core values and developing a good attitude to help them to get ready to face the uncertain circumstances that lie ahead of them. I consider my role in CFLS is not just as a mere AP Physics teacher, but as a mentor and a friend to my students. Having an objective of developing students' creativity, critical thinking skills, and helping them to realize their full academic potential while at the same time guiding them towards becoming culturally aware, responsible, global citizens.
Working at Chengdu Foreign Languages School has a lot of perks to offer. Firstly, having wonderful students to teach, students who are motivated, ambitious, competitive and brilliant in various ways. Some of my students challenge me to provide further learning experiences and extensive content as they prepare for their university years. Secondly, the teachers and staff. Working with professional teachers, with diverse experiences and different cultural backgrounds, is of great benefit to my own teaching experience. Teachers who are willing to provide professional help, teaching ideas and strategies are good qualities that I haven't experienced in the past. Despite our cultural differences the unity, cooperation and support are always there.
The healthy and vibrant interaction between the students, teachers and staff create an environment that fosters openness and family spirit and this is the most significant benefit of working here at CFLS. Finally, the ever supportive staff and management. Sometimes, it is inevitable that you encounter difficulties along the way. Whatever form of difficulty, our staff is always there to support and help. They always make sure that you're doing good work and are well provided for. Since I arrived in the school I really felt the feeling of being a special and important person in CFLS.
The convenience that the transportation system the Chengdu has is one of the things that I love in the city. The extensive subway system, taxis and buses allow you to explore the city easily. The impressive transport system links to other provinces thus granting you the privilege to travel around China. When I was still in Macau, the experience of going to other places and cities inside of China was just a dream but today it is already a reality. The city has an extensive range of places to visit, from where you can learn about culture and lifestyle, and traveling around grows your understanding about the Chinese culture. The not so heavy teaching schedules and good number of holidays gives me an opportunity to travel. We even have time to ourselves to go jogging, play badminton or visit the gym to maximize physical activity. Cheaper vegetables and fruits are readily available throughout the whole year. A variety of restaurants and cuisines are also available. Staying in Chengdu is one of the good things that has happened in my teaching career.
Student Case Study
Linda
I started at the AP centre in Grade 10, in 2013. I love my experience here, absolutely love it. In the AP centre I get experience that I will never get by attending the Gaokao track. I think how the AP centre changed me is not to be seen in a short period of time. I know it changed me a lot but I don't know which specific events influenced me in a certain way. A combination of a strong sense of discipline and an open minded atmosphere has made me a better self. So, in a word, I love the AP centre and the things it brings to me.
It brings me:
The ability to think critically. I realised that I cannot take things I heard for granted.
The ability to make wiser decisions. Teachers in the AP centre are amazing. They give us every kind of suggestion from live advice to travelling tips. They helped me a lot.
The realisation that I need to find my own value. People around me in the AP centre are motivated and inspired.They keep doing what they are good at and digging for deeper meaning in the things they do.
It is a shame that I did struggle with the opinions people have towards international departments but later I figured that I should be proud to be part of the AP centre. Another challenge is that I felt it difficult to listen to and speak that much English for a long time when I first came here.
I have gained a place at the University of Pennsylvania, a top five university in America. Our school does not require students to decide their major until the second year so I could explore as much as I want for the first two semesters. Then I might settle to architecture as a major. I will get a BA in architecture (hopefully), then I will move on to an M.Arch. (if everything goes fine) and then I will move on to get a Doctor's degree in architecture (if I am entirely out of my mind, which might be the case..). Hopefully, I will then move on to be an architect if it is possible.