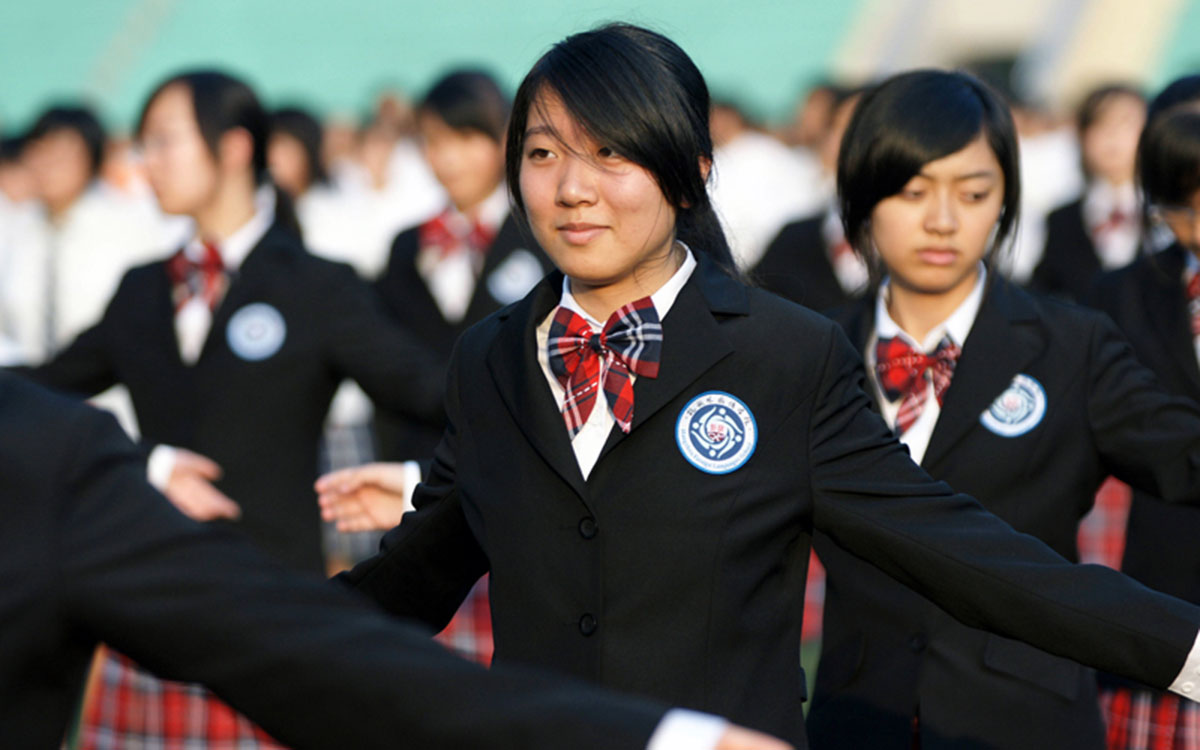 About the Host School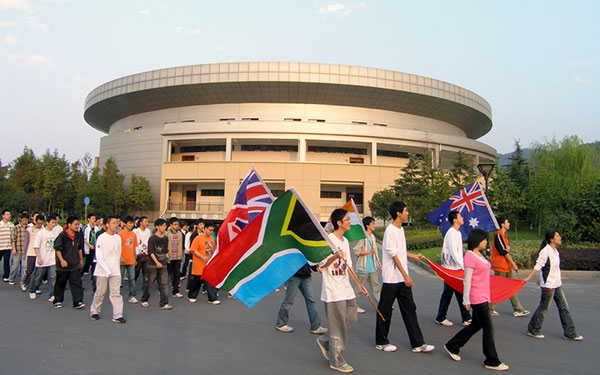 Featuring foreign language teaching and aiming for the long-term development of every student, Hangzhou Foreign Languages School (HFLS, or Hangwai) is one of the most-respected secondary schools in Zhejiang Province and beyond. Founded in 1964, under direct administration of the Zhejiang Education Department, HFLS prides itself on being one of China's earliest foreign language schools, and it now enjoys the privilege of recommending 20% of its graduates to top universities in China exempt from entrance exams. HFLS is located in Xiaoheshan Higher-education Zone in the west of Hangzhou, the capital city of China's southeastern coastal province, Zhejiang, and one of China's best-known tourist destinations. Hangzhou is additionally just a two hours' drive from Shanghai. HFLS facilitates the sharing of various resources including dormitories, teaching buildings, laboratories, academic halls, a library, a gymnasium, and a soccer field with running tracks. The school is a fully web-supported campus. The faculty of HFLS is slightly over 300, among whom 10 are honored as "Provincial Master Teachers" and 20% hold post-graduate degrees. In addition to secondary education, HFLS is the only middle school in the province authorized to provide teacher-development courses to Zhejiang's K-12 teachers. In 2007, HFLS proudly became one of HANBAN's base schools and is qualified to teach Chinese to overseas students. The UK's A-level curriculum was introduced to HFLS in 2008 and has prepared many of our young pupils to become global citizens. As the school motto goes, "study for the motherland and get prepared for the future": HFLS motivates its students to become talented, with all-round abilities. Every year, 80% of our graduates are admitted to top universities in China and abroad. Many of our graduates are today's elite in all walks of life. For instance, over 30 HFLS graduates are now serving in China's foreign ministry. Looking ahead, HFLS vows to commit itself to providing the youth of today with quality education so that they are ready for challenges from a world increasingly without borders.
About the A Level Centre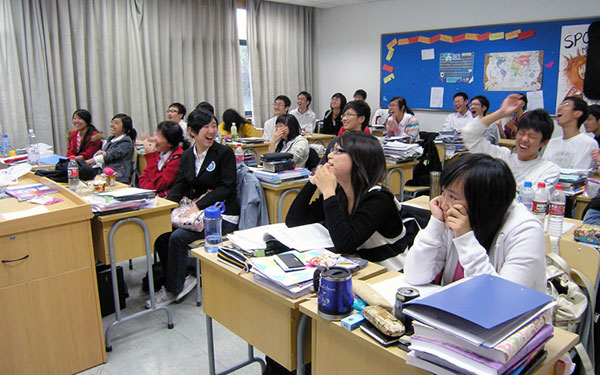 The centre was established in September 2008 and currently has over 360 students enrolled. We have 16 foreign teachers and over 30 Chinese teachers and staff.
Our students are hardworking, intelligent, highly motivated and with lofty standards for themselves. They read way beyond the syllabus parameters and classroom discussions are very active and lively. Our results at AS and A2 level have been excellent year on year.
The A level centre is fully equipped with science laboratories, classrooms equipped with smartboards, computer rooms and an assembly hall.
Students participate in a number of extracurricular activities aswell as an electives programme. The extracurricular activities offer students multiple opportunities to exercise their leadership skills, as many of these activities are student created. Activities include academic, charitable and leisure themes. The electives programme is offered by teachers and covers the gamut from cooking classes to robotics.
Lifestyle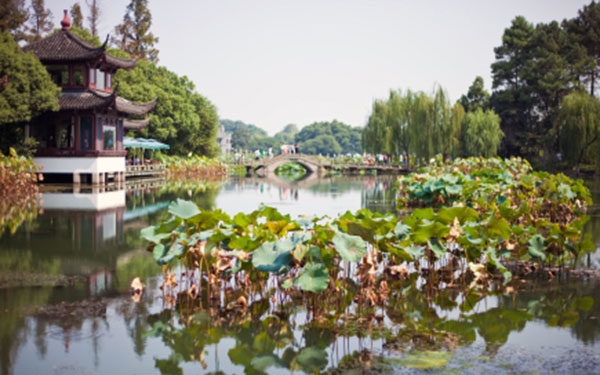 Most of our foreign teachers prefer to live near the school and the area benefits from good restaurants, shops, supermarket and shopping mall. Most of our staff live in one or two bedroom flats, though larger flats can be found here too within a reasonable price range. Other areas closer to the downtown area are more expensive.
We're a close knit team and enjoy meals out, visits to interesting places and a range of other leisure activities. In general, teachers at the HFLS A Level centre work very hard but have an enjoyable lifestyle.
Hangzhou is often referred to as 'the most beautiful city in China' with its stunning West Lake and surrounding countryside. West Lake is one of the most famous tourist attractions, but there are also many others: Lingyin Temple, Solitary Island, Six Harmonies Pagoda, Mausoleum of General Yue Fie and Songcheng Theme Park. Hangzhou is also very close to Suzhou, Shanghai and a vast number of other cities with as many attractions. These are all conveniently linked by rail, road and air.
Hangzhou has a perfect mix of history, culture, nature and modern city life. While it is one of China's ancient capitals with much cultural and historical heritage, it is also one of China's most modern cities. It is extremely safe and the pleasant living environment has received many civic awards. The pace of life here is not so rushed, and the sky and cityscape generally clean and clear.
Further information can be found about Hangzhou at: http://www.echinacities.com/cityguide/hangzhou
http://www.travelchinaguide.com/cityguides/hangzhou.htm
http://www.hangzhou.gov.cn/main/zpd/English/
http://www.dragonair.com/da/en_INTL/helpingyoutravel/destinationdetails?cityCode=HGHhttp://www.webtourist.net/china/hangzhou/tourist-information.phtml
http://www.biztradeshows.com/china/hangzhou/hangzhou.html
Teacher Case Study
Will Arnold
I taught Mathematics to secondary school students in the United Kingdom in both selective schools and leading independent schools for many years where I was also heavily involved in co curricular activities particularly sport and outdoor pursuits. I also taught some very impressive Chinese students attending schools in the UK. I have now worked at Hangzhou Foreign Languages School for over 4 years.
I am the Head of Department for Mathematics at the Cambridge A Level Centre at Hangzhou Foreign Language School where we have close to 360 students all of whom study mathematics. In the Pre A Level year, IGCSE is taken and then all students study mathematics at A Level. I work closely with Chinese Maths teachers, the counselling department and other expat teachers in delivering the Cambridge International Maths and Further Maths Programme as well as providing many enrichment opportunities in Maths related activities.
The students are brilliant to work with. The levels of mathematics that I am working at are way in advance of any I have experienced before. The strength and depth of talent in mathematics at the centre is amazing and it is a pleasure and a privilege to share my passion and knowledge of the subject.
I am very fortunate to work in Hangzhou which I think could be the most attractive city in China, I enjoy a variety of activities including continuing my sporting interests which involve playing squash ( and teaching the Chinese how to play) as well as refereeing expat Rugby in different parts of China, watching Hangzhou Greentown FC play in the Chinese Super League and losing to my pupils at table tennis! I have Chinese friends and expat friends and colleagues from all over the world.
The teaching environment, less administrative burden in school and quality of life in China make for a fantastically rewarding time which surpasses all previous teaching experiences.
Student Case Study
Lu Hanxiao
In the year of 2013, I started to attend the Hangzhou Foreign Languages School Cambridge A-Level center. My three years of high school life spent in this community is mixed with joys, tears and sweat. I wouldn't judge the experience as bad or good, but between the two extremities, I found myself growing up in a way that I am glad to see in the future.
The quality of the Chinese teaching staff is well enough to help you get through any academic obstacles at the beginning. Foreign teachers are easily accessible and friendly. Some of them are very willing to share with you their lives, experiences, giving you advice beyond the scope of merely academic problems. So far, in comparison with other A-Level centers in China, our school has given students great freedom and opportunity to explore different fields outside the classroom and encouraged diversity and creativity. The timetable is relatively flexible and usually students have pretty much time of their own available for activities and other programs they are interested in.
I believe five things are particularly IMPORTANT in studying in this program: self-discipline, self-exploration, self-motivation, self-originality, and self-cognition. I spent two years figuring out what kind of person I really wish to become and what kind of life style I wish to lead in the future. But strengthening my self-identity is particularly challenging, with ups and downs. In high school, as I met a variety of interesting people with different values from different backgrounds, I hesitated at the idea of being myself, or you could say I was not even sure who I was. The whole process was painful and full of confusions, but luckily I finally got through it.
Since I am very passionate about political science, history and sociology, plus my college, Smith College, offers great courses of Government, I might major in those fields and try to find internships at NGOs over the holidays. Besides, I take great concern over global plastic pollution and want to offer some efforts to help the environment by promoting a healthier and greener way of life and figuring out ways of innovating the current packaging design industry, which is unreasonably wasteful and unsustainable. The situation is especially serious in China.
Never follow the crowd. Ask yourself why you want to achieve something before starting doing anything. Essentially "Why" questions are what matter.